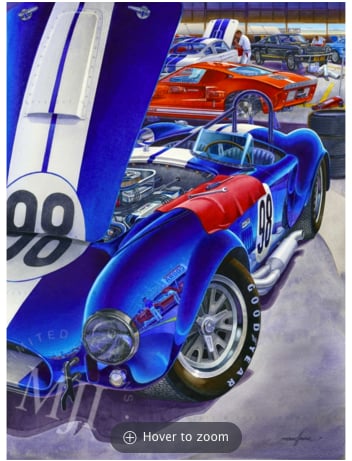 BUILDING OF THE BEASTS
by MICHAEL IRVINE
$

160.00
---
---
"Building of the Beasts" — Cobras, GT40s and Mustang GT350s at LAX
The desire for speed has always been there... We built production cars so we could go racing. — CARROLL SHELBY
And that's exactly what they did. When production was at full throttle in March of 1966, Team Shelby was creating seven GT350 road cars per day, out of just one of the two hangars at LAX. In this striking painting, Michael takes you into the 'race car' hangar, where the focus was on building the real beasts, the Cobras, the GT40s and the Mustang GT350s.
Having outgrown his Venice, California plant, in 1965 Shelby moved production to the now famous hangars at the Los Angeles Airport. The large open spaces, with an unobstructed view of the entire production facility, gave Michael the idea of setting his painting inside the building — allowing the viewer a unique, dramatic look into one of the most well known automotive production facilities of our time!
Although Shelby and his team operated at LAX for only 3 years, it was there that they created some truly iconic automobiles. This painting captures a moment in automotive history — a glimpse into Shelby America's LAX production facility where these legendary cars were built, including the world's #1 most recognized car, the 427 Cobra. While planes land and take off outside, in this building, Shelby and his team produce the cars that are destined to win the races, dominate the circuits and tear up the streets. Undeniably, this is the "Building of the Beasts".