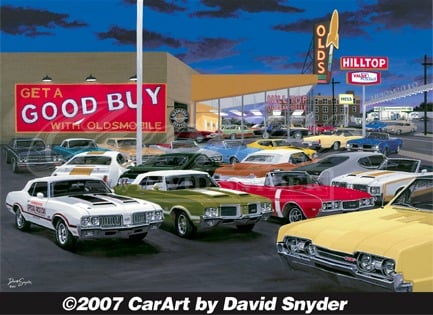 GOOD BUY OLDS
by DAVID SNYDER
$

95.00

/ Sold Out
---
"Good Buy Oldsmobile"
At 10:00 am EST April 27, 2004 we said good bye to Oldsmobile. The last Oldsmobile rolled off the assembly line in Lansing, Michigan where the first car with the Oldsmobile name plate was built in 1897. Oldsmobile was a good buy for American drivers for 107 years.
As a tribute to Oldsmobile, automotive artist David Snyder selected a few of his favorites Ð the Indianapolis 500 Official Pace car from 1970; the Hurst Olds Pace Car from 1972 and the 1968 and 1969 Hurst Oldsmobile as a part of this new painting "Good Buy Oldsmobile". The painting has been reproduced as a limited edition print. "Good Buy Oldsmobile" is limited to 950 prints plus 95 artist proofs. The prints and artist proofs are signed and numbered by the artist.
The image measures 18" x 26" on 22" x 28" high quality acid free stock.
Limited Edition $90.00