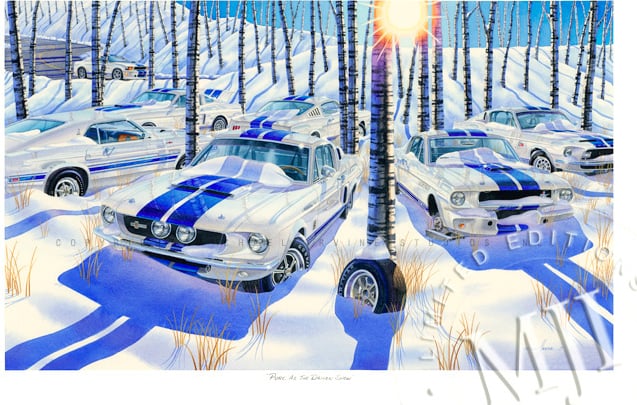 PURE AS THE DRIVEN SNOW
by MICHAEL IRVINE
$

150.00
---
---
SHELBY MUSTANG CAR ART
BY ARTIST MICHAEL IRVINE
For 1965 Ford Motor Company teamed up with Carroll Shelby to create one of the most recognized Mustangs ever produced — the Shelby G.T. 350. Shelby increased the Mustang's already potent 271hp 289ci engine, with an assortment of bolt-on goodies, bringing total horsepower to 306. The addition of a fiberglass hood, side-exiting exhaust, suspension upgrades and the removal of all non-essentials, like the backseat, transformed the sporty little Mustang into a "street legal" race car.
All '65 Shelby Mustangs were painted a Wimbledon White with twin Guardsman Blue racing stripes and matching lower side stripes. This paint scheme, which was reminiscent of the world-class Ford race cars of the day, let the public know that this was no ordinary Mustang.
In "Pure As The Driven Snow" Michael takes us outside to a peaceful setting on a crisp, clear, winter's day. On this morning we see Shelby's creations basking in the glow of the sun while long cast shadows help camouflage them from passers by.
Limited Edition reproductions
Individually Signed/Numbered by Michael Irvine
Embossed with Michael's Studio Seal
Certificate of Authenticity
LIMITED EDITION PRINT (only 800 produced)
Overall size: 30 x 21"; Image size: 26.5 x 16"
10pt satin finish, acid free, museum quality stock