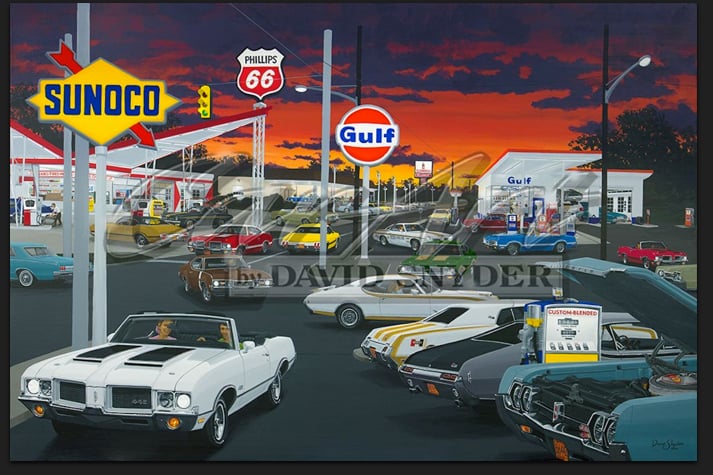 ROCKET FUEL
by DAVID SNYDER
$

100.00
---
---
Some believe the FIRST muscle car was the 1949 Oldsmobile 88 powered by the Rocket V-8 303 cubic inch motor. This was the first time an American auto maker put a dual overhead cam equipped engine in a car that would be for sale to the general public-and the success of this engine was the beginning of the Oldsmobile legacy in the high performance market.
Some believe the BEST muscle cars were the 1964-1974 Oldsmobile 442 and the 1968-1974 Hurst Olds. Oldsmobile used "Rocket" to brand their high performance motors for the next three decades. Only the highest octane gas would do.
"Rocket Fuel" pays tribute to the Rocket V-8. This highly detailed and exciting painting by David Snyder took 400 hours to complete.
Five hundred prints, 50 artist proofs and 10 Giclee Gallery Edition prints are published from the original painting. The prints and artist proofs are printed on high quality acid free stock and are hand signed and numbered by the artist. The hand signed and numbered Gallery Edition Giclee prints measure 32" x 48" and is printed on archival canvas.
Available Prints Cost
Limited Edition $100.00